Lot 10 - Cafe Vienna Lunch Set(已结业)
Went for lunch after appointment today at Cafe Vienna in Lot 10 Swcond Floor.
It's a very classy restaurant/cafe, very nice ambience with soft music playing in the background.
I heard their coffee is good but too bad I can't have coffee (or I might get migraine).
Checked with the waitress before I walk in, they said there are lunch, hi-tea and dinner promo sets available during different hours of the day.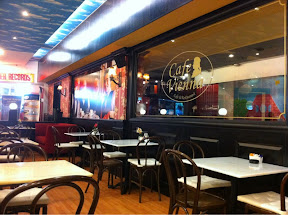 I sat outside the restaurant, nearby there is a Tower Records.
The menu, a lot of tempting western food.
I came for value lunch set. Remember to ask else they won't give you this menu I think.
The lunch set start from RM18++, including an ice lemon tea, soup of the day and a main course.
Ice lemon tea and soup of the day.
The soup is asparagus cream soup I think, two crunchy garlic bread cubes on top.
It is a bit salty for me but still lovely, I almost finish it up but I have to leave some space for the main course.
My main course is Fettuccine Al Fresco, the RM26 set.
The portion is quite big for me (especially after the big bowl of soup), I only manage to finish up 30% I think.
The creamy sauce is good, there are quite a lot of chicken breast slices in it but really salty, I wonder if my tongue is having problem due to the flu, or the chef forgot that he had already sprinkled the salt twice?
Noted that they stated the fettuccine is homemade, no wonder the color is kinda different from what I normally have. It is good!
I am quite happy with the meal I had today (although it's salty), I might go back next time to try out the other food!
ps: they only charge 10% service tax, no 6% government tax. =)
I post this with Blogpress from iPhone so write in English. =D
Cafe Vienna
S 23-27, 2nd Floor,
50, Lot 10 Shopping Centre,
Jalan Sultan Ismail, 50250 Kuala Lumpur.
Tel: 03-21417858